[vc_row full_width="stretch_row" css=".vc_custom_1675937628536{background-image: url(https://universalventuresrwanda.com/wp-content/uploads/2021/02/Gorilla-tracking-seasons-in-Uganda-and-Rwanda-1200×675.jpg?id=709) !important;}"][vc_column width="1/6″][/vc_column][vc_column width="2/3″][vc_empty_space height="120px"][vc_custom_heading text="GORILLA TREKKING IN RWANDA FROM GERMANY" font_container="tag:h1|text_align:center|color:%23ffffff" use_theme_fonts="yes"][vc_empty_space height="120px"][/vc_column][vc_column width="1/6″][/vc_column][/vc_row][vc_row full_width="stretch_row" css=".vc_custom_1675931092146{margin-top: -90px !important;}"][vc_column width="1/6″][/vc_column][vc_column width="2/3″][vc_tta_tabs style="modern" color="green" active_section="1″][vc_tta_section title="Gorilla Trekking Rwanda from Germany" tab_id="gorilla-trekking-from-germany"][vc_column_text]
Gorilla Trekking in Rwanda from Germany
Gorilla trekking in Rwanda from Germany on your Visit Rwanda, Africa's home to some of the last remaining mountain gorillas and a place where you will be warmly welcomed by smiling locals. Rwanda has bravely risen from a tragic past and stands proudly as a representation of Africa's irrepressible beauty. Be awe-struck by the profound power of the endangered mountain gorilla.
There's something uniquely special about coming face-to-face with an animal that shares 99.6% of our DNA – even more so when there are just 1,000 of them left in the wild. No wonder mountain gorilla trekking in Rwanda from Germany is a dream-come-true for wildlife lovers.
Dreaming of a Rwanda gorilla trip from Germany? Here's everything you need to know about Rwanda gorilla trekking – from where and when to go, to how to prepare and what to pack, to the best place to stay and best trips on offer.
What To Know when on a Gorilla Trekking in Rwanda from Germany Safari?
Mountain gorillas live in just two places in the whole world: Uganda's Bwindi Impenetrable National Park and the Virunga Massif, a chain of volcanoes stretching 174 miles across Rwanda, Uganda, and the Democratic Republic of Congo.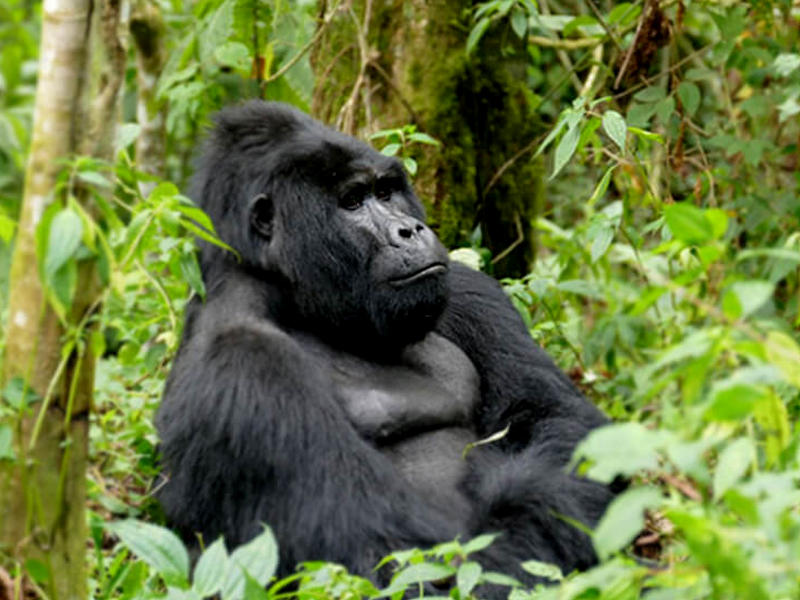 If you've ever seen the film 'Gorillas in the Mist', inspired by famous American primatologist Dian Fossey, you might recognise Volcanoes National Park as the place she conducted most of her research and founded a centre that helped bring the endangered gorillas to the attention of the world. To this day, the park is one of Rwanda's conservation epicentres and home to the Dian Fossey Gorilla Fund, which continues her legacy of research and gorilla advocacy.
On your Gorilla Trekking in Rwanda from Germany, You'll be allowed to spend up to an hour with the family – this is to avoid causing the animals any undue stress or getting them overly used to human interactions. Habituated gorillas may observe you with some interest (as will you them!), but inevitably they'll go about their business and even feed in front of you unperturbed.
There are just eight tracking permits per gorilla family per day up for grabs in the Park (One gorilla trekking permit costs USD 1,500 per person), so planning ahead is crucial. Of course, this means the forest is unlikely to be crowded and you can rest easy knowing the gorillas face minimal disturbance.
Your guide will lead you to the spot where your gorilla family was last seen – which could be just a couple of hours' hiking, or much further away.
[/vc_column_text][/vc_tta_section][vc_tta_section title="Gorilla Safari Packages" tab_id="gorilla-safari-packages"][vc_column_text]
Below are the gorilla trekking Rwanda tour packages from Canada
It offers you a lifetime adventure of meeting the rare mountain gorillas in the jungles of this tropical rain forest. Enjoy and see the remaining population of the highly endangered mountain Gorillas in their wild, on the shortest gorilla tour. View This Tour
---
Join a 2-days Rwanda gorilla tour to Volcanoes National Park (PNV) with The park also harbors the endangered golden monkeys. Enjoy an exhilarating trek through the cultivated foothills of the Virungas in search for the gentle giants. View This Tour
---
Rwanda has a got a variety of amazing experiences to offer to her visitors. Wildlife enthusiasts can enjoy some of the best encounters in the African jungle such as the breathtaking  gorilla trekking and golden monkey tracking in Volcanoes National park. View This Tour
---
The 4 Day Gorilla Trekking Safari begins and ends in Kigali Rwanda. It includes gorilla trekking in Volcanoes national park, Iby'iwachu Cultural practices and visiting genocide sites Gisozi and Nyamata Reconciliation village. View This Tour
---
This 6 days Rwanda gorilla covers, Kigali sightseeing, primates tour, Kivu lake adventure, coffee tour and hiking adventure. As you drive, you will enjoy the revitalizing views and landscapes of the Country of a Thousand Hills. This is a very interesting itinerary and enjoyable. It covers all Rwanda National parks and the core activities in each park will be done. View This Tour
For more, Check other tour packages suitable for your gorilla adventure tour in Rwanda or Customize your trip.
[/vc_column_text][/vc_tta_section][vc_tta_section title="Customize a Gorilla safari package" tab_id="customize-a-gorilla-safari-package"][vc_row_inner][vc_column_inner css=".vc_custom_1675931269127{background-color: #a89655 !important;border-radius: 10px !important;}"][vc_column_text]
Customize your gorilla safari to Rwanda
[/vc_column_text]
[/vc_column_inner][/vc_row_inner][/vc_tta_section][/vc_tta_tabs][/vc_column][vc_column width="1/6″][/vc_column][/vc_row]