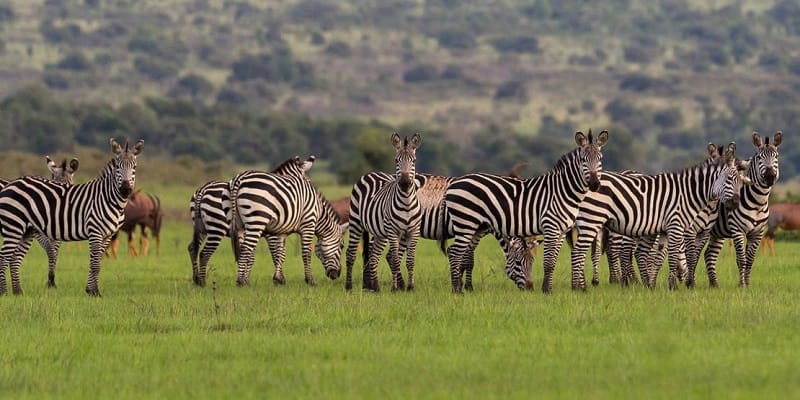 1 Day  Akagera National  Park  Adventure.
Akagera National Park has a diversity of wildlife including buffaloes, elephants, giraffes, zebras, impalas and many others. After a long time being extinct in Akagera National Park, the black rhinos and lions have recently been restocked. Their sighting is always not guaranteed due to their small number and the hiding character of the black rhino. Enjoy the game drive viewing the natural habitat of different animals, birds and enjoying the view of different lakes and landscape.
Overview
Depart from Kigali as early as 05h30 and drive for an estimated three hours and reach Akagera National Park by 08h30 and then spend the entire day through the park to depart to Kigali late afternoon or in the evening.
Indicative itinerary
05h30: Pick-up, leave Kigali with a universal ventures rwanda driver-guide to drive 3 hours approx.
Mid-way: Stop-over by Imigongo Art Center for leg stretching and exploring the different art objects in their exhibition hall.Towards 08h30: Akagera National Park reception for permits, register,  and go for Akagera Game Drive.
Spend the whole day in Akagera National Park
Arrive back in Kigali towards the evening, around 18h00-19h00.
Rates Per Person
Jan 1, 2021 – Dec 31, 2021

Solo

$430

2 people

$285

3 people

$240

4 people

$220

5 people

$200

6 people

$190

7+ people
             in(ex)clusions
Included
· Entrance fees
· Bottled water
· Safari vehicle with a protective sunroof / 4×4 jeep .
·  A professional driver-guide (with a Covid-19 test)
·Pick-up and drop-off anywhere in Kigali city
Not included
· Alcoholic drinks
· Akagera National Park guide 
· Anything not explicitly mentioned