Gorilla Trekking in Rwanda from Switzerland
Looking for gorilla trekking in Rwanda from Switzerland? For the value of money, many of the visitors to east Africa always mix gorilla trekking with a wildlife safari before or after the trek.
Booking of the gorilla permits by yourself is so possible as well as travelling using public means though there are many draw backs to put in mind. By doing this, you will end up incurring more costs, this includes when you miss your bus or in case it breaks down, and you might end up missing your gorilla trek. These gorilla permits are non-refundable and this means that in case you reach late, you will have missed your adventure slot. Therefore. Many of the visitors travel on a planned group tour or book their own driver and vehicle and mostly through a Rwanda safari company or tour operator.
The other danger to avoid when organizing a gorilla trek by yourself in Uganda is booking the accommodation facility that is far away from the gorilla family you are to trek. You will also be required to wake up so early so that you reach the park headquarters on time. The gorilla families in Uganda are all spread seven hours apart.
A luxury Rwanda gorilla safari might also range from $3000 to $5000 per person and might also include a fly in option as well as five star accommodation facilities.

How to buy Gorilla permits Rwanda

The gorilla trekking permits cost USD 1,500 per person per trek and need to be bought in advance as much as 2-6 months earlier. In case you are traveling during the high season or in large groups. The earlier you book, the more choices you have of where to trek and where to stay. The availability of gorilla permits is not guaranteed.
The main costs of a gorilla trek are the tracking permits, accommodation, transport, meals and tips, plus optional expenses like hiring a porter.
Most international visitors to Uganda and Rwanda book everything in an organised tour package; this is by far the easiest route.
The most important expense is your gorilla tracking permit. This allows you entry into the relevant national park and one hour with the mountain gorillas, accompanied by official ranger guides.
The gorilla tracking permits are highly regulated systems, enabling the authorities to control human-gorilla interaction and generate much-needed revenue. The availability of permits is limited by the number of habituated gorilla families and the number of visitors allowed per family.
Each permit is printed with a unique serial number and the traveller's personal details. They are non-transferable and non-refundable (except for medical reasons, in which case a medical certificate is required). You will need to provide your passport when you book your permits.
Although your gorilla tracking permit does include a fee for the ranger guides, tips are greatly appreciated. You'll also find it very useful to hire a porter so should allow a fee of $10- $20 per person plus tip.
Tips for your Gorilla trekking in Rwanda from Switzerland safari
Also part of the experience of trekking the mountain gorillas is also thinking where you will find them! As the name suggests, the mountain gorillas live at high altitudes. Here the dense jungle, muddy terrain and the altitude can be so tiring and some of the visitors will find the trek so challenging. You have to keep your own pace as you drink plenty of water. Always avoid getting dehydrated.
Immediately after enjoying the breakfast, the lodge will provide you with a packed lunch and lots of water. And also in case the weather looks good and friendly, before leaving for the hike, don't forget the rain jacket since the rain might fall at any time.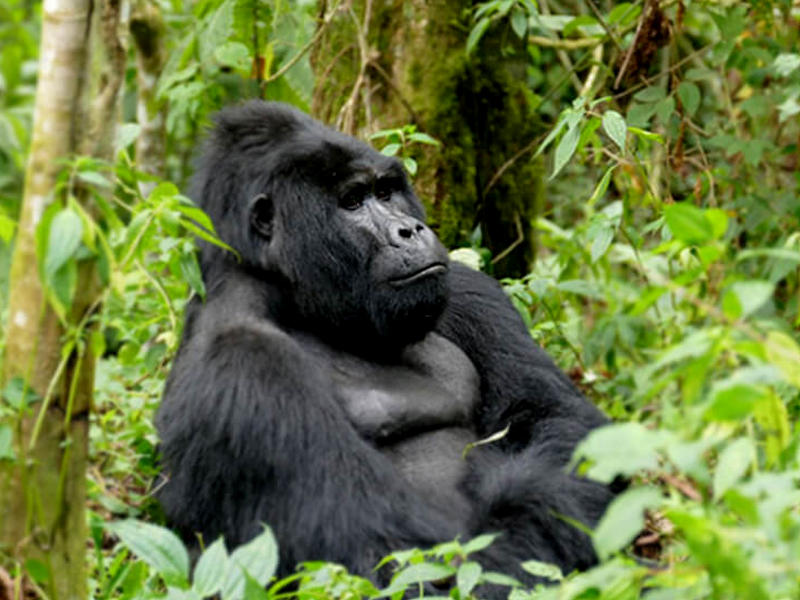 This gorilla experience also starts with a morning briefing at around 7:30 to 8:00am and this will also depend on where you are to trek. You will also be told about gorilla trekking rules in order to protect the gorillas and their habitats. One of the main rules is that when you are ill, you are to tell the authorities. These will advise you whether you are healthy enough to go for gorilla trekking in Rwanda from Switzerland. You should also remember that the health of these gorillas is more important; a flu or the cold can be dangerous to the gorillas.
Below are the gorilla trekking Rwanda tour packages from Switzerland
It offers you a lifetime adventure of meeting the rare mountain gorillas in the jungles of this tropical rain forest. Enjoy and see the remaining population of the highly endangered mountain Gorillas in their wild, on the shortest gorilla tour. View This Tour
---
Join a 2-days Rwanda gorilla tour to Volcanoes National Park (PNV) with The park also harbors the endangered golden monkeys. Enjoy an exhilarating trek through the cultivated foothills of the Virungas in search for the gentle giants. View This Tour
---
Rwanda has a got a variety of amazing experiences to offer to her visitors. Wildlife enthusiasts can enjoy some of the best encounters in the African jungle such as the breathtaking  gorilla trekking and golden monkey tracking in Volcanoes National park. View This Tour
---
The 4 Day Gorilla Trekking Safari begins and ends in Kigali Rwanda. It includes gorilla trekking in Volcanoes national park, Iby'iwachu Cultural practices and visiting genocide sites Gisozi and Nyamata Reconciliation village. View This Tour
---
This 6 days Rwanda gorilla covers, Kigali sightseeing, primates tour, Kivu lake adventure, coffee tour and hiking adventure. As you drive, you will enjoy the revitalizing views and landscapes of the Country of a Thousand Hills. This is a very interesting itinerary and enjoyable. It covers all Rwanda National parks and the core activities in each park will be done. View This Tour
For more, Check other tour packages suitable for your gorilla adventure tour in Rwanda or Customize your trip.
Customize your gorilla safari